KTET Hall Ticket 2023: Are You Aspiring to Teach in Kerala, India? If that is the case for you, chances are good you know about an essential step on your path – The Kerala Teacher Eligibility Test or KTET for short. In this article, we'll guide you through the process of obtaining your KTET Hall Ticket for the upcoming exams on September 10 & 16, 2023.
ktet.kerala.gov.in Hall Ticket 2023
KTET (Kerala Teacher Eligibility Test) is an examination conducted by Kerala Pareeksha Bhavan that assesses applicants wishing to teach primary and upper primary schools throughout Kerala. The exam consists of four categories.
Category I: For Lower Primary Classes (Class 1 to 5)
Category II: For Upper Primary Classes (Class 6 to 8)
Category III: For High School Classes (Class 9 to 10)
Category IV: For Language Teachers (Arabic, Hindi, Sanskrit, Urdu) in Upper Primary, High School, and Lower Primary classes
Your KTET Hall Ticket 2023 is more than just a piece of paper; it's your key to the examination center and a symbol of your eligibility for your chosen category. Failing to carry it on exam day could hinder your dreams of becoming a teacher in Kerala.
Kerala TET Exam Date 2023
As you prepare for the KTET 2023 exams, mark these key dates on your calendar:
Exam Dates: September 10 & 16, 2023
Hall Ticket Release: August 2023 (Check the official website for announcements)
How to Download the Kerala TET Hall Ticket 2023?
Now, let's dive into the process of obtaining your KTET Hall Ticket: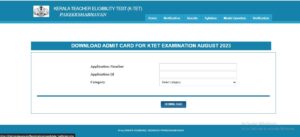 Visit the official KTET website at:https://ktet.kerala.gov.in/Registration/candidate_hallticket.php for further assistance in applying.
Search the website and select "Hall Ticket/Admit Card."
Once on this new page, please select either Category I-IV from the drop-down list provided.
Once you select your category, you'll be asked for details such as application number and birthdate that correspond with those found on your application form. Ensure these match up accurately!
If everything checks out, click the "Submit" or "Download" option.
Your KTET Hall Ticket for 2023 will appear on the screen. Double-check all the information, including your name, roll number, exam date, time, and location.
Don't forget to print a hard copy of your hall ticket after downloading it. A digital copy won't be accepted at the examination center.
Kerala TET 2023 Exam Pattern
Your KTET Hall Ticket 2023 will contain essential details, including:
Your Name
Roll Number
Application Number
Exam Category (I, II, III, or IV)
Exam Date and Time
Examination Center/Venue
Your Photograph
Your Signature
Exam Instructions and Guidelines
Documents to be carried or Not along with KTET 2023 Admit Card 
As you prepare to head to the examination center on the designated dates, remember to carry the following:
Documents to be carried
Printed copy of your KTET 2023 Admit Card/Hall Ticket
Valid photo identification proof (such as Aadhaar Card, PAN Card, Voter ID, etc.)
Documents not to be carried
Soft copies or digital versions of the admit card will not be accepted.
General Instructions for KTET Exam
Ensure you have the printed copy of your KTET Hall Ticket.
Arrive at the exam center early to avoid delays.
Follow any dress code guidelines, if applicable.
Carry a valid photo identification proof for verification.
Carefully read and adhere to the instructions provided on the question paper and by the exam invigilators.
Only use the permitted materials during the exam.
Review each question carefully before answering.
Maintain discipline and avoid any misconduct or malpractice.
Do not leave the exam hall before the allocated time, unless permitted by the invigilator.
Keep your admit card for future reference.
In conclusion, your KTET Hall Ticket 2023 is your ticket to realizing your dreams of becoming a teacher in Kerala. Follow the steps outlined above to download it from the official website, and ensure you have all the necessary documents and follow the instructions for a smooth examination experience. Best of luck on your KTET journey!